Description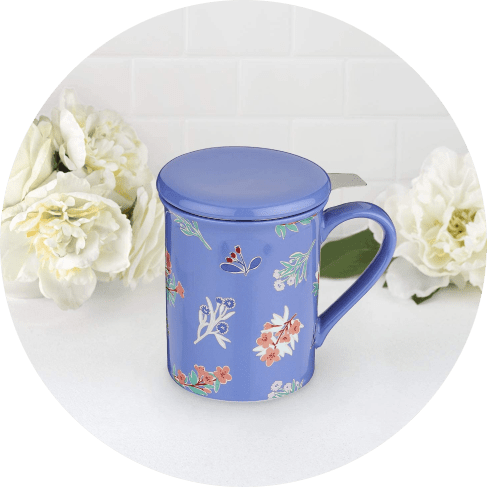 Annette™ Blue Ceramic Tea Mug & Infuser
Make the most out of tea time with the Annette infuser mug. Dependable and perfect for any setting, the ceramic lid keeps your tea warm, so you can sip on your schedule. A must-have for everyday tea drinkers and great for the office. This will become your go-to mug because it's easy and fun to use.
Features and details
Your new favorite mug
Loose leaf life made easy
Loose leaf tea tastes better, but complex infusers can be a pain. The Annette infuser travel mug is designed for simple brewing and easy cleaning so you can have a tea party on your commute, at the office, or while traveling.
Quality travel mug for tea lovers
Practical construction meets style in the Annette infuser mug. Ceramic and stainless steel make this travel cup sturdy and long-lasting and give it that irreplaceable feel of a real mug of hot tea in the hand.
Steep in style on the go
The Annette infuser mug makes loose leaf easy, allowing you to brew quality tea anywhere you go. Simply place your tea in the infuser, add hot water, let steep, then remove the infuser to achieve the perfect flavor.
Cute gift, ready packaging
Looking for a gift for a tea lover who has it all? Let them take their hobby on the go with this infuser mug! Makes a perfect going-away to college gift, teacher appreciation gift, and more.
Details & care
Annette™ Tea Mug & Infuser holds 12 oz of your favorite tea. Made of high quality ceramic and stainless steel, it's durable and ideal for daily use. The lid also doubles as a holder for the infuser.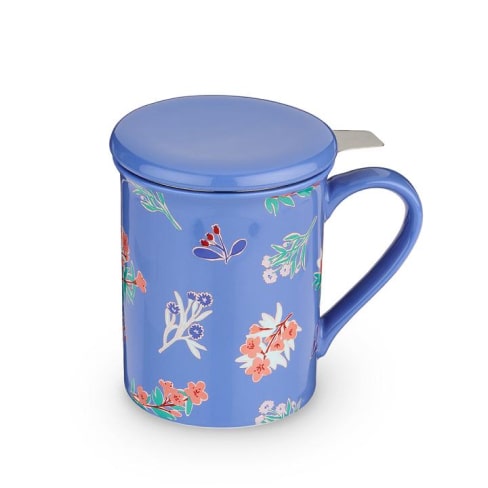 Very cute! Works well. Nice sized mug also.

Bought for wife. She liked it.

I love this cup. I use it for all of my delicious teas.

Love the tea defuser , the colors of the cup are also bright and beachy which was what I was going for

This cup is great quality. I highly recommend it!

Loving this mug! First off, it just looks great.Not only the mug look great, but the tea infuser is a huge plus! As a pretty frequent tea drinker (albeit less so in the summer months), a large, stainless steal infuser perfectly fitted for the mug is so convenient! Plus I get pretty meticulous about keeping my tea/mug hot, so the fact that mug also comes with a top comes in pretty clutch too! AND (I didn't even realize this when ordering) the mug cover doubles as a perfectly-fitted coaster too!

HIGHLY recommend (in fact I'm already planning on gifting these to all the tea fans on my Christmas gift list) I had NO idea the importance of giving tea room to bloom, my tea is now exponentially better! I used just the tiny amount of tea you see here and it filled the whole infuser! It seems crazy to me that I've been shoving a bunch of tea in a tiny infuser for years and never letting it fully bloom. I genuinely wish I could give more stars, you will not regret getting this mug!