Description
Add a pop of color to your walks
The perfect waste bag holder for when SH*T happens
This waste bag holder is not only functional, but super cute in the 'Bee Sassy' pattern! Feel free to mix in coins, your key, or some extra treats on your walk. Featuring an original Sassy Woof design, 'Bee Sassy' is the perfect collection for any pup. This blend of neutral and bright colors features buzzing bees and sweet honeycombs.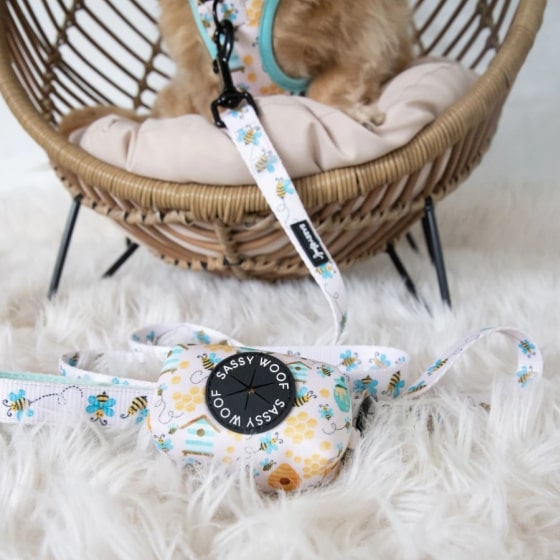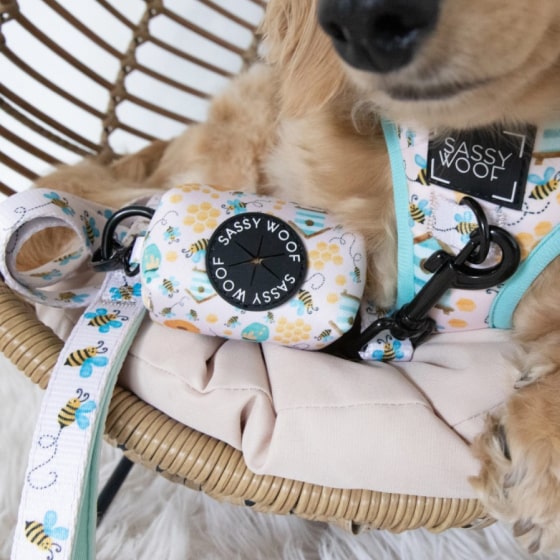 Not like other poop bag holders
Ensure you are never caught short on a walk
Exactly what you need
This astonishing product includes one standard waste bag roll and is made with heavyweight neoprene material.
Ideal for your daily dog walks
You can easily clip this bag holder to your leash or bag, and there is a small zipper pull to replace the waste bags.
Perfectly sized
The 'Bee Sassy' dog waste bag holder measures approximately 3" x 2.5" x 2" and is just the right size for your needs.
Care instructions
When you need to cleanse the Bee Sassy bag holder, just spot clean with soap and water. Then hang to dry it.
Dealing with dog poop gets more pleasant
This Bee Sassy bag holder has a super cute print that is sure to brighten your pup's style. Can be used to fit a standard roll of poop bags, or carry those necessities like keys, treats, or anything else you need while out with your lovely pup. Enjoy your walk and spending time with your dog even more.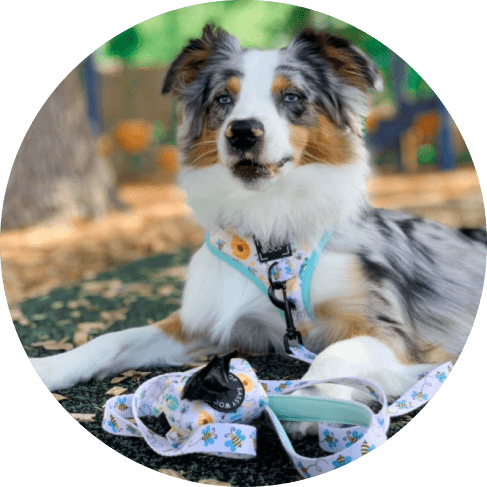 About SASSY WOOF
Modern. Classy. Affordable. Inspired by our two sassy & spunky dachshunds Maya The Dox and Winston The Dox, we created Sassy Woof to deliver a dog apparel experience that makes your fur-baby feel comfortable and fit for daily use. Our designs are the direct result of endless hours of careful thinking and meticulous attention to detail and crafting. We focus in developing new accessories and products every season to keep your pup's wardrobe as fresh as yours without breaking the bank. Our customers are like our family and we love interacting with each and all of you! Sassy Woof is a small business proudly based out of the suburbs of Washington D.C. A portion of our proceeds are donated to animal charities because no pet should suffer in this world.
Designed In
Sterling, Virginia
Good value for money. 4 stars because I haven't used it so long.

Very cute bag better then most I have had I'm happy with it and will be keeping this one I have went through a lot of the bags because I don't like them but this one is nice

Very stylish,good quality and just the right size for my dog's leash.

They are beautiful I bought two and the first one on my first walk the whole thing just unraveled but I was still able to take the clip put it on the zipper and use it then I grabbed the second one and the same thing happened within the very first walk. Good think I love everything else about it! The rest of it seems to be great quality. Easy enough to dispense there is no send other than the clip holder it is sturdy.

Very strong well made...Only thing I think it can't be used on small retractable leashes.

One of the better dog poop bag holder I've had. It's also pretty, for my little dog!

Super cute and simple. Clips right to my jeans or leash when we're out and about, and it fits the biodegradable bags we got. The rubber opening is a nice touch to keep multiple bags from sliding out.

Cute dispenser, I've had it only for a few days but I like it! Easy and lightweight to carry on your leash.

Was worried that this would "slip" down the leash, but it doesn't!! Sturdy and well constructed!! Poop bags and treats right on my leash...genius!!