Description
Magnificent accessory for anyone
No matter who you are. A man, or a woman, or you're not about those categories. This watch doesn't care – it looks awesome on any wrist, and it'll bring joy to any person.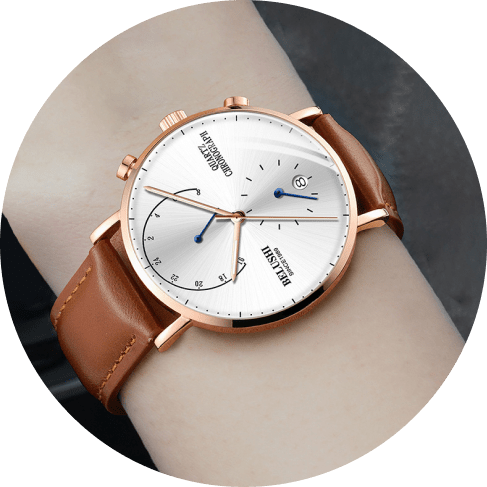 Simple and subtle
An elegant touch to any look
Made from premium materials
This watch has been produced with the best materials: authentic leather and stainless steel. Durability and ease in usage, nice to meet you!
Nothing but 100% safety
The watch is produced with nothing but the best materials. RoHS certified, no harmful chemicals have been used in the production process.
30 bar water resistance
30 bar water resistance means the watch can withstand minor water impacts (like splashes), but it's not suitable for swimming or showering.
Product specifications
The watch strap is 8.66'' long. The dial diameter is 1.57'', case thickness is 0.39''. The watch will greatly suit anyone's wrist!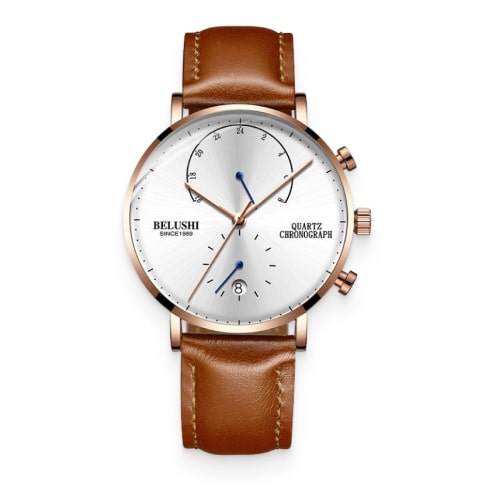 This watch is a notch above
Exceptional quality, look, and affordability – that's what this watch is. Your jewelry box really needs it! If you don't have one, it's a perfect opportunity to get one and start filling it up.
Fast shipper and great product

This is a lovely watch. Its design is perfect and not over complicated

It's a good looking watch, but it isn't very comfortable for me to wear.

The watch has a slightly darker color than what the pictures indicate.

My son loved this watch, suits his minimalist life style.

Looked good in pictures and even better in real life.

I love this watch. Great for a beginner watch owner

Just arrived a day or so ago. It is gorgeous just like the picture.

I'm obsessed with this watch! It looks so much better than in the pictures.

This watch is really classy looking and I love the brown with the gold!

Nice brown color. The mesh band feels good on the wrist. looks more expensive than it was. Overall I am very pleased with the product.

I really like this watch. The dial on the side is easily loosened though.

Such a great looking watch. Have worn it every single day since receiving it.

It's a great watch! Love that it's so easy to read and so stylish.

Really love how light and slim this watch is. Pretty stylish and definitely worth the price. Pretty solid construction and all around solid watch.

I bought this watch for my fiancé as a birthday present and he loves it! He wears it both to work and casually so it is something you can dress up or down depending on the occasion.

Very basic watch. Just bought it for style to match with a gold chain and an array of blue toned outfits.

I bought this to match my brown dress shoes for weddings and such. The bank online looks a lot lighter than it is in person. Was disappointed, it really doesn't match the shoes. Still a nice watch. Just don't be fooled by the color of the band in the photo.

The watch itself is a beauty and is true to the watch displayed in the picture. If anything it looks even classier in person.

The watch looks exactly like the picture. Nice designed, interesting color. It looks elegant.

Would give it 5 stars, but it is more lightweight than I was expecting

I'm 5ft 5inches with a slim wrist and this watch fits me perfectly. I've been wearing this watch for a little over a month now and I've received a lot of compliments.

I got this for my guy for Christmas because he needed a "dress watch" for work functions and such and he loves it. It looks awesome! The only thing that he doesn't like is that the dial sometimes bothers his wrist. It works great and it looks classy!

Beautiful watch. I bought this for my boyfriend and he loves it. It lays pretty flat to the wrist, which is nice for wearing long sleeve shirts, and etc.

If you are looking for something different in a watch, this is it! The color is eye-catching and beautiful, you're certain to get lots of compliments on this one. Goes great with jeans, or dress pants, great value for the money.

This is a nice watch. It's a pretty big face but it doesn't feel like a massive watch because it is so thin.

I wear this watch for my everyday timepiece. Looks good with khakis and a golf shirt. Simple to read along with a clean face, make it a great choice for casual wear. Not my most expensive timepiece by any means. Just a nice watch and nice price with a leather band.

It's a really nice watch visually. It's a nice statement piece, it's easy to read, and overall looks stunning. I bought it for my boyfriend as a present and he loves the look as well.

Beautiful, elegant, classy and sturdy. I get compliments on this watch almost every day. I never tell anyone how much I really paid for it, they wouldn't believe me anyway! LOL I challenge anyone to find a better watch for this price. I can't recommend this timepiece highly enough!👍🏽

The design is very good and minimalist. The markings are very clear and the materials look very quality. The leather band feels nice and smells really good when you first get it (smell wears off after a few days). It doesn't slip down your wrist like some other watches do.

This watch is really nice. The band is adjustable so it fits any sizes. It keeps time like it is supposed to be. I'm so glad I purchased this watch. It is a perfect accessory for the people who don't want to spend a lot on the big brand jewelry, it's a bargain price but doesn't look cheap. thumbs up.

Great product! Always wanted a watch that would add a little style to my dress for every day and this was that watch. I didn't spend a fortune and it looks great! All of it is metal and it looks and feels like a $1000 watch.

This is an awesome watch. Obviously a great value for the money. Super easy to adjust and really comfortable. I have already had a lot of compliments. This watch would definitely make a great gift, too. It does not feel cheap in any way. Feels like an expensive watch. If you're giving it as a gift it comes in a beautiful box, very nicely packaged. Great purchase!