Description
Chloe™ Pink Leopard Mug by Pinky Up
Your new favorite mug
On the prowl for the purrrfect tea sipping experience? With Chloe's chic array of spots, you can call off the search. Take a walk on the wild side and enjoy!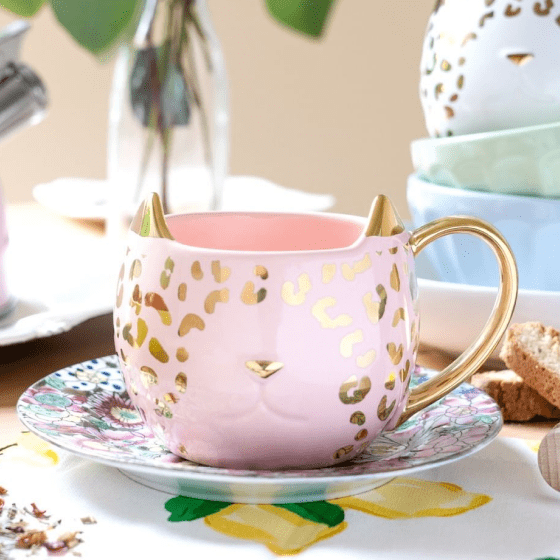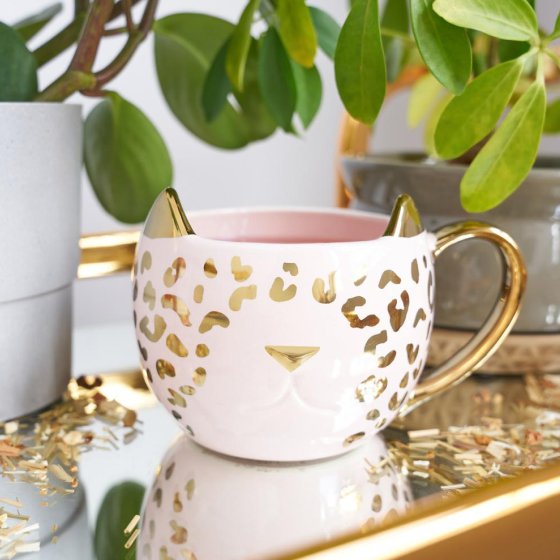 Why you'll love this mug by Pinky Up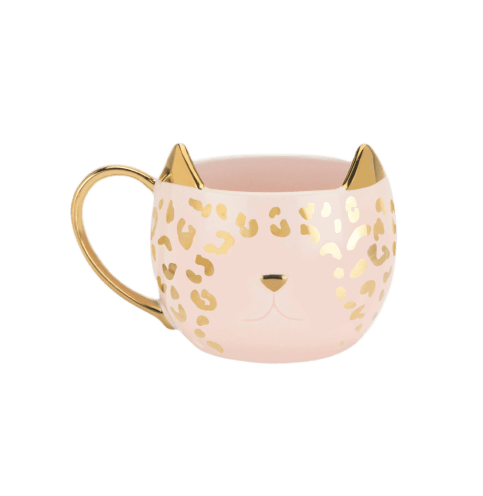 Unique kawaii design
This adorable 12oz ceramic mug is fun to sip your favorite hot drinks. With the adorable pink nose and friendly lil whiskers smiling back at you, your morning is sure to be as bright as can be.
Eco-friendly & high quality material
The mug is fully made of a non-toxic durable ceramic material. Reduce your carbon footprint and plastic waste, make your life more sustainable with an organic coffee mug!
Makes a perfect gift
This pretty little kitty mug is the purrfect gift to give to a fellow cat lover - fitting for any recipient - and sure to put a smile on their face! With the cat mug keeping you company at work or at home, it'll make it just a bit easier to get through the day. The mug is made in the USA. It is microwave and dishwasher safe.
This cup is just so adorable! Im so glad I got it.

its adorable. the saying at the bottom is the perfect pick me up after a nice hot cup of tea. its large and just really classy i love it

I love the cup as it is cute, but was disappointed it is not microwave safe. I know I should have read more closely but still I am pleased with purchase.

My daughter loves this cup. She's uses it for everything. Mostly cold stuff. I was surprised by the quality of it. We've put it in the dish washer and it doesn't fade either.

I bought this for my 5 year old who has been drinking coffee since she was 2. She loves this mug and I must admit it is super cute. This mug is easy for her to handle even with the odd shaped ears. This makes her morning happy.

Looooove this little mug! The color is a beautiful blush, as pictured, and the ears/handle have stayed gold despite many, many uses. It is definitely not microwaveable (which it states on the mug) and I wash it by hand per the recommendation (I wash everything by hand and this is super easy to clean so it's not a nuisance for me.) Would make a great gift for others or yourself.

This mug is super adorable and comes in a cute little box as well. I didn't even realize it had the cute saying on the bottom of the inside until it arrived. I got it in pink, so don't have any of the color issues that the pink/white mug orders had. Can't wait to gift this to my sis in-law, I think she'll love it! Was a slightly lower price when I ordered, so I recommend the honey browser plug-in so you can see what the price has been on the item historically and make sure you're getting a good deal.

This cup is so ADORABLE! It is so fun and festive with all of its gold spots and accents! It has a low profile so it doesn't tip over easily, but it still hold more liquid than I thought it would. My daughter, who wears cat-ear headbands always wants to use this mug for her hot tea or hot chocolate, but I've usually beat her to the punch, so I'm thinking I should order another one. Would make a great gift as it comes in a nice Pinky Up box to wrap. I have washed it in my dishwasher several times on the top rack, and it has come out fine every time. I am careful when placing it upside down due to the "ears." I was most worried about the gold coming off, but so far, so good. Inside the cup, on the bottom, it says "BE WILD," so it helps me seize my day!