Description
When old school meets modernity
This watch is a perfect find for you if you're into classic, but you don't want to be stuck up with it. Classic frame – modern technologies, this watch is exactly it.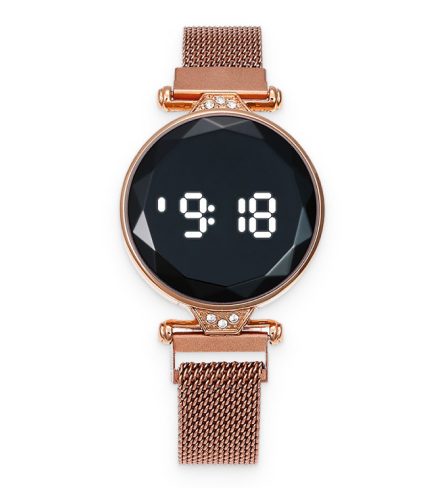 Versatile timepiece
Moving forward, keeping the traditions
Sophisticated design
A black, textured screen elegantly complements the rose gold fittings. A couple of shiny crystals add a touch of glamour to the overall look.
Trusty and durable material
Made from zinc alloy, this watch is extremely durable and resistant to corrosions. It won't get damaged easily and will last you for a long time.
3 bar water resistance
The watch's 3 bar water resistance means that it can withstand daily use (minor moisture, splashes). Just don't wear it when swimming or showering!
Product specifications
Strap length: 0.86'' Dial diameter: 0.59'' Case thickness: 0.39'' Battery life: 8-10 months (rechargeable) Anyone can find the comfiest adjustment!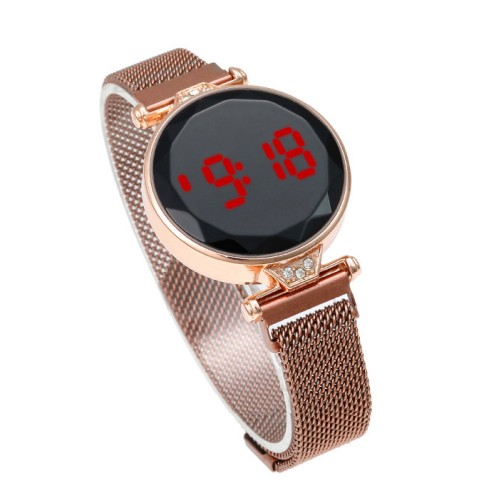 Improved classics
Don't ever be torn between classic and modern watches. With this one, you can enjoy the best of both worlds. A stylish, technological, simple, and durable watch will be an accessory you won't ever want to take off.
Really like the rose gold color and screen design of this digital watch. It looks amazing on my wrist. I have been looking for a watch that actually looks like a real watch for a long time and finally I found this one. I immediately decided to buy it with such a good price tag without much expectation but it turned out so much more than I expected. I have been wearing it for a few days now and just love how it makes my life more organized now.

I bought this watch because I was destroying my nice watches doing yard work. This one I figured I could scratch and get paint on and I would not care. So far, I'm pretty impressed. It certainly has taken some hard knocks and I've had no issues with it. Matter-of-fact, I've even worn it out a few times. I think that I got a little more than what I expected and that is a winner in my book!

Love this watch! Great price, comfortable to wear and love the look and how easy it was to set up and daily use. Love how it conserves battery by not showing the lighted time unless you touch the screen. It responds well to body heat/touch showing time and date. Really space age! Cool!

I wanted to wear it for the day but it was so sensitive that random touch would change the set time... so I reserved it for special occasions as my fancy watch =) love the rose gold color and it feels good on too!

Bought this watch for my mom and she seems to really like it! It's a little confusing to set the time since there's only one touch button, but not too bad. Great product overall!

Got this for my 5 year old. He was happy but it is a little difficult to work. It has a touch screen but it is weird to set up. I got it so my son could practice telling time. And this might not be the perfect gift for that.

Wow, this is a really nice product! Good size band, my wrist feels comfortable. It looks good and its price is affordable, I'm enjoying this watch every day.

Way more than I would've expected for the price. Very stylish doesn't feel cheap. It was a great idea for a gift. My daughter was so happy 😊

I've been using this watch for a few days and I love it. The band is very soft and smooth. The screen seems to be of good quality and scratch free.

Very beautiful and exquisite appearance, very stylish. You can also bring it on formal occasions. Functions are simple but sufficient for daily use.

My daughter is 10 years old and she loves this watch. Great deal for this quality, but the band feels a bit heavy.

I love this watch, but it's kinda hard to set the time though... Everything else is working fine.

The watch works like it should and a display is easy to read. It is a great value.

This watch looks elegant! I love the round screen and the golden band.

The screen scratches easily. Touch screen isn't that responsive.

This is really a beautiful watch and perfect for a woman's wrist.

This is a pretty cool watch. I'm glad I bought it.

The watch is easy to read but a little difficult to set.

I really like this watch. It is awesome!

Very nice quality! My mom loves it!