Description
A luxurious accessory
Create a classy look
This luxurious emerald-faced watch for men and women is bound to make admirers green with envy! Its astonishing design and vivid details convey the very essence of class and style. Designed to help you create a remarkable classic look, the Emerald Face Watch is a sophisticated and unique piece of jewelry, perfect for any occasion.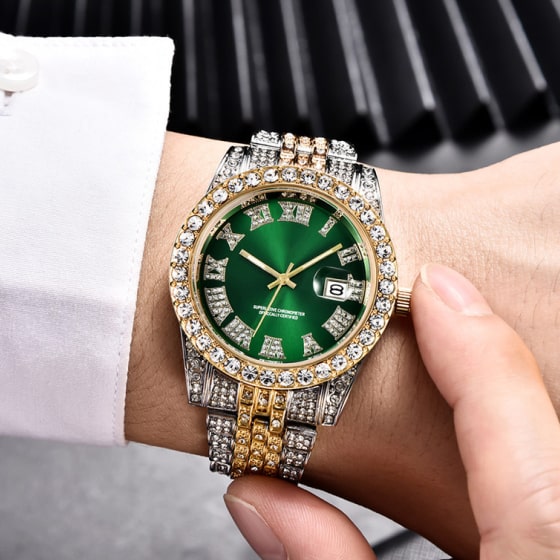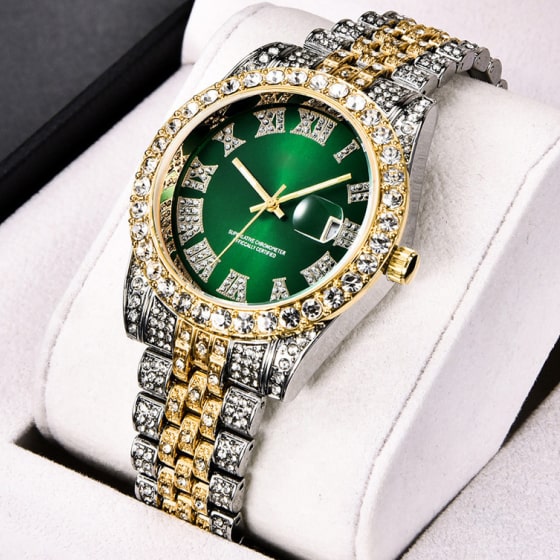 An exquisite piece of jewelry
Your head-turning style starts on your wrist
Watch details
The face of the watch has an alluring verdant green color. The 9.4 in. long band is silver and gold-toned and enchased with rhinestones, creating a beautiful gleam as the stones catch the light. The watch is made of brass.
High quality
Brass jewelry possesses high corrosion resistance. It's a strong, durable, and long-lasting metal. So, feel free to wear this watch every day!
Little details for irresistible glam
Inspired by classic jewelry, this stunning watch can add some dignified touch to your daily looks. Wear it with both classic and casual outfits.
Easy to take care of
Keep the watch in a cool, dry place. If needed, dry with a slightly wet soft cloth.
A timeless gift
Looking for a way to declare that you want to be with your significant other every second of the day? This Emerald Face Watch will become an excellent option! This fashionable watch never goes out of style and lasts forever. Show your loved one your care and devotion!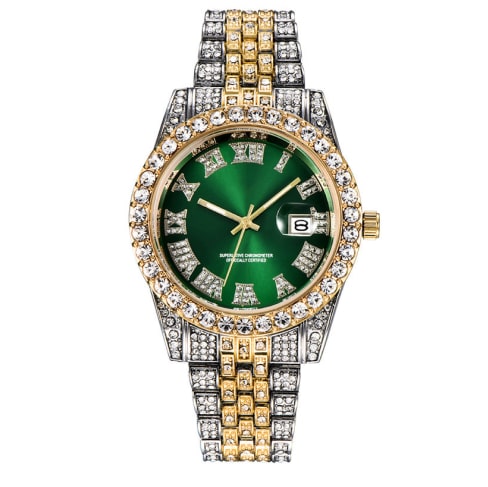 I bought it for my grandfather, and he absolutely loves it, and doesn't take it off at all. The green color is AMAZING, it changes if the light changes, very bright and beautiful. For my grandpa's wrist it's perfect, but I believe it's possible to remove some links and make it less, very convenient. If you don't know the price you will never guess it, this watch looks like an expensive one, so cool.

I love my watch! It looks just like the picture. Sooo CUTE!! I just need to remove a few links to make it fit to my wrist.

I didn't like adjusting it, it was too complicated, had to ask for help. But the watch itself is gorgeous.

The product as in the pictures, the stones and color are very beautiful, very good quality

Looked just like the picture my bestie loved it it's just a little to big but it's awesome

Beautiful the tone is perfect, with good details of very good quality is worth it

Beautiful very good quality and match the description

Nice, can be adjusted, super comfortable and pretty

Love the watch ! Jus like the picture, good quality.

The dial is too big for my wrist, gifted to my friend

Great quality watch , diamonds shine in the light

This green color of the dial is just great

Very nice watch I highly recommend

Good watch my brother was happy

I really love it. It looks very Original

Very good better than I expected

Gorgeous! Very very very bright!

Watch is absolutely stunning.