Description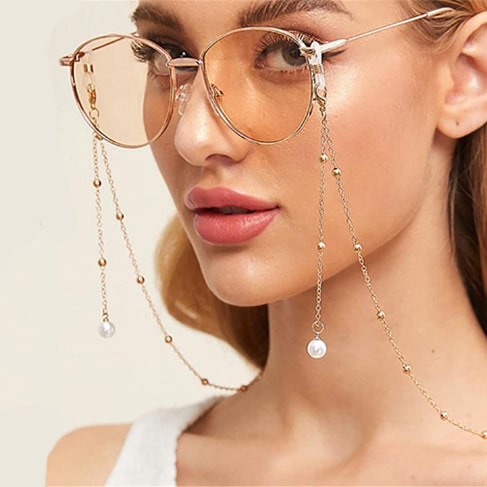 Elevated simplicity
An eloquent accessory
This Elegant Gold Bracelet will wonderfully complement your daily outfits. This lustrous piece of jewelry will be a great addition to your collection.
An accessory that never goes out of style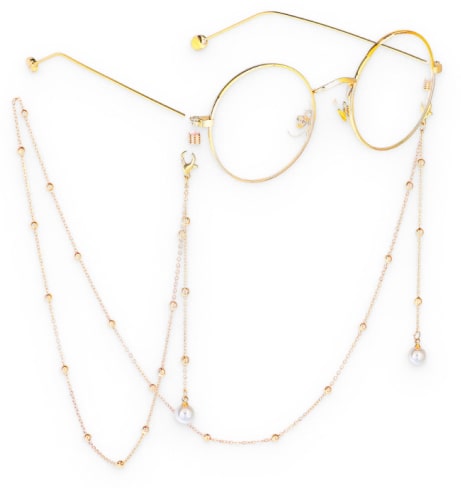 Chain details
This graceful cable chain is decorated with gold-toned beads and two faux pearls that add a delicate touch to your look.
High quality
Brass jewelry possesses high corrosion resistance. It's a strong, durable, and long-lasting metal. So, feel free to wear this chain every day!
An excellent gift
An extremely beautiful design of the Gold Pearl Glasses Chain won't leave anyone indifferent. This gorgeous accessory is a perfect mix of utility and fashion trend. It'll become a stunning addition for both formal and casual outfits.
This is exactly what I was looking for. I'm young and when you think of the string I think of older people. I had eye surgery and only need reading glasses now and I kept putting them on my head and stretching them out and then they slid down my face. So I was excited to find this, it's the perfect thing for me and I don't feel like a grandma.

I bought these for my sunglasses so they don't fly off on the boat. These are really helpful and cute! They are easy to adjust and switch from each pair of sunglasses I own. Surprisingly, they didn't tarnish at all after using them all summer.

I use this chain every month, my sunglasses and my prescription glasses. Super cute and when I need to take it off for a quick second I don't have to stretch out my glasses by putting it on my head, instead I let it hang from the chain. Love this product.

It's attractive and comfortable to wear and the jewelry clasps on each end are a good idea. I've been using it for a week, so If the color and the loops that hold the glasses hold up well, then I'll consider it a good purchase.

I ordered this bec I was tired of my sunglasses getting caught in my hair when I put them on top of my head. The chain is dainty, yet strong. Works perfectly and has already received a ton of compliments on it!

Very nice glasses chain, easy to use, very useful, I don't wear the glasses all day, so it is easier to hold in the glasses chain and wear back when I need it. Really recommended. I gave some to my friends 😃.

Really pretty gold eyeglass chains are cool. These are not for elderly. I love wearing this chain. It looks classy. I wore them out to dinner the other night and I actually got a compliment, I love them!

I have bought several different styles of glasses holders that have not worked so I was very pleased when I tried this product. It doesn't get tangled in my bluetooth wire earbuds like all the others did.

This is a beautiful gold delicate eyeglass chain. It is durable & tough. I am busy with children & animals & everyday chores & so far the chain has not broken & I have not been careful with it at all.

After my eyelid surgery, I only need my glasses for reading. The chain allows me to wear my glasses all day long instead of walking from room to room.

There are many eyeglass chains to choose from but I found this one in a league of its own. It presents itself in an upscale look, it functions well and it goes well with different glasses.

These are dainty and stylish. I have received many compliments! Well made. And I am a tough critic!

I love the overall style! I got lots of compliments and I use it to hold my face masks. Stay safe my loves~

It's so cute. I wanted something to add some style to my eyeglasses, I just got it but I received compliments. I definitely recommend.

I like them a lot. Been threw a lot of these and these are the nicest ones i've ever had

Love this eyeglasses chain - very light and dainty - very pretty too!

So cute and useful. Like a nice piece of jewelry

Very well made, lightweight, and stylish, Great price!

I have been wearing these for a few months and they serve the purpose of saving my glasses from falling while being simplistically-stylish. You may or may not like it, but I feel like I receive compliments for it too often. The beads will eventually move out of place. There hasn't been any irritation to my skin or rust. These hang pretty low so they get in the way when I eat, but tucking it behind my ears helps. Overall, great product. Glad I bought them.

I love this glasses chain! Very cute, durable, and fits well. My only comment is that the little band you tighten to secure the chain gets stretched out over time - I was only able to wear this chain for about a month before it kept slipping off due to looseness. I'm sure if I flattened the metal slip down I'd be able to wear it more, or maybe I just pulled the band too tight and caused the stretching myself. Besides that, an excellent product.

Love the chains. They are a little too long, but that's on me. I should have paid more attention to the length! I'd order them again, but shorter!