Description
Cute watch for everyday life
If you need a simple, capable, and durable watch for everyday life – this one is it. It's super cute, not cumbersome, and is perfect for daily use. Check out why!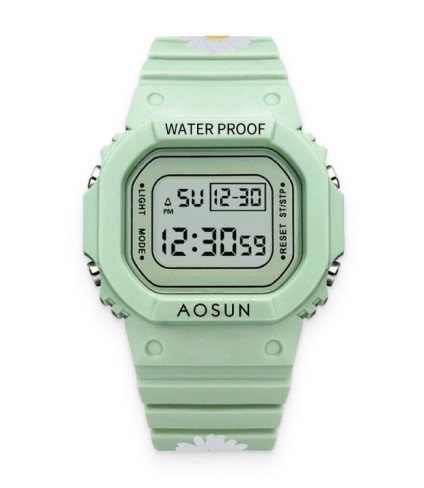 Renew your image
And know the exact time (even seconds!)
Adorable and versatile design
The soft green watch looks airy and flowy on the wrist, giving the whole look a refreshing and subtle kick. It'll look awesome in any season.
Made from the best materials
The silicone strap is easy to take care of, doesn't stain, and doesn't collect odors. Zinc alloy is corrosion-resistant and durable as well.
3 bar water resistance
The watch can withstand minor water impacts, like water splashes. But it's not suitable for swimming or bathing as that'll ruin the watch.
Charging & Data Transfer
Safe charging current, data transfer and power charging 2 in 1 can easily plug and charge without removing the case.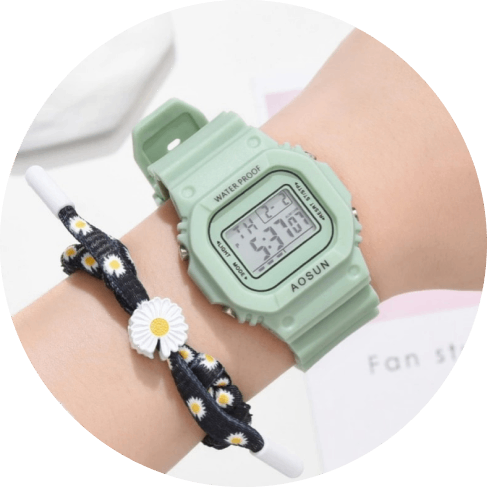 Product specifications
Strap length: 10.23'' Strap width: 0.86'' Dial diameter: 1.73'' Case thickness: 0.27'' Certifications: CE & RoHS Find the comfiest adjustment!
I bought this regular watch for a cruise I was going on. I wanted a watch that wouldn't update automatically and would stay on ship's time. It's been super reliable and comfortable. It's pretty small which is perfect for me but may look odd on someone with larger hands. I've gotten lots of compliments on it too.

I've had this watch now for about a week or so. It's a great watch, buttons are a little tough to push because they are so small. Color is beautiful, but I've had some discoloration to the band, tried to use soap and water to clean but it didn't work so I'm going to try and find some other options to clean the band.

I needed an all white watch for school. This is fantastic. I love that it has the day, date,the seconds counting. Unfortunately I actually needed a second hand. So I won't use it for school but I'm glady going to wear it anywhere else 😊

This is such a cute watch but, unfortunately, the green got stained really quick :( Try not to wear this with jeans or if you decide to do any outdoor activities bc it will look messed up by the end of the first day having it on.

Hello! This watch changed my LIFE! It does everything, is so cute, is easy to use, and has lasted me so long! My only warning is that when you wear it every day there is a bit of discoloration, but LOVE IT!!!!

Bought it for my sister and she says that she loves it. I can't say much because I don't have it myself but as far as I have seen it has been a great watch for that price! I would definitely recommend it!

Way cooler than expected. It's a good little watch, especially if you're looking for something small and functional while still being stylish. It's been really durable so far, and I work a lot with my hands.

I really like this digital watch because it's small enough for my thin wrists, but you can see the numbers and letters very clearly. I recommend it- it's small and cute, but very useful and practical.

This watch is really cute. It's smaller than I thought it would be based on the picture. The one thing that most bothers me about this watch is that the screen scratches pretty easily.

It is a great watch for the price. I have been using it while coaching fastpitch softball. It is much better than having to find a place for my iphone. A simple watch that does the job.

Adorable watch. Listed as women's but fit my 5 year old daughter perfectly on the tightest setting. Face is very small so it is perfect for a child. Really cute.

Adorable. I have a fat wrist and there's plenty of additional holes so it can probably fit almost anyone. Looks great with my nails lol!

My little sister broke her previous watch and needed a replacement. This is exactly what she wanted so I'm happy with my purchase.

I bought this watch after seeing it on a coworker -- it's definitely small, it will definitely get a little dirty over time, but I still love it

I'm glad we got this for my daughter. She loves it because of color and size. We love it because she loved it, and the price.

It does also look and feel a little cheap so I don't know if I would recommend this as a gift for anyone above 12.

I was expecting this to break for the cheap price, but my 11 year old loves it, uses it daily, and it's going strong.

Very happy with it. It is easy to figure out how to use its various functions & I like the way it looks.

Worth it. I bought this for work and it works just fine. Great watch and super inexpensive.

My niece is obsessed with watches. She loves it! It held up beautifully.

OMG 😳 this watch is perfect for my tiny wrists!