Description
An easy, lightweight storage solution
Keep everything in one place
Tight on space but need all your beauty essentials? Girl, we've got you -- just store and tie with our easy Lay-n-Go 13" COSMO Mini Cosmetic Bag, for a compact, drawstring-powered beauty bag.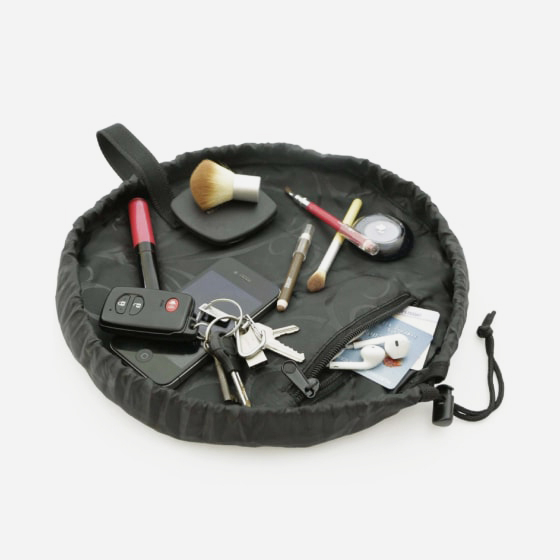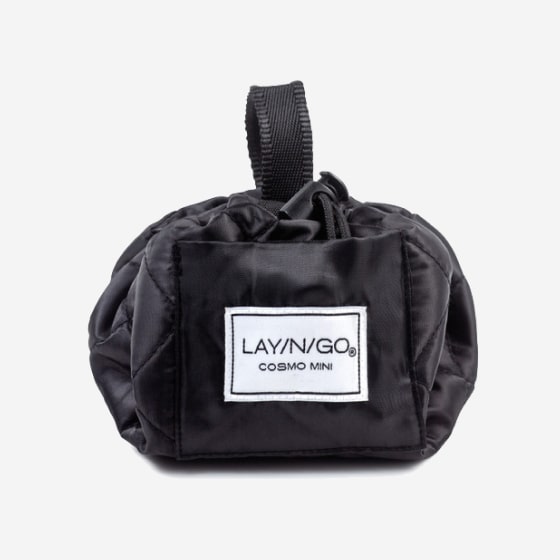 It's on-the-go smarts
For the on-the-go gal
From road trips to flights
Never sacrifice a pair of great shoes again (all for storage space). Allow our space-saving makeup bag to hold your makeup must-haves all while using less space and bulk.
Generous circumference
With 13" of storage ground to lay down your foundation, lipsticks, powders, and more, never sacrifice another essential with this much space.
Stay in place, little ones
Our bag features a zippered pocket for storage convenience.
No more counter drops
The raised lip of our beautiful storage bag ensures lipsticks and brushes never fall off the counter from your bag.
Innovative organization
Love to play but hate the hassle of cleaning up? The Lay-n-Go brand makes personal and at-home storage less of a drag -- with an easy, drawstring design that stores everything in a flash.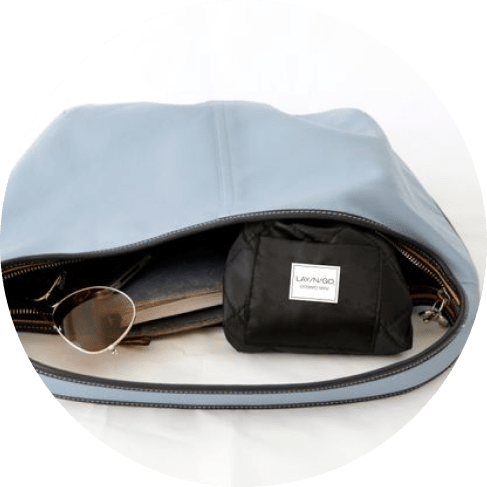 The convenience of placing this on the counter, opening up the pouch and laying everything out for one to see make this pouch worth buying. I used to carry a lot of makeup but the ease of use of this bag along with its small size force me to edit out cosmetics I don't need while packing the only items I'll need. I still use the larger size for weekend travel but this size is perfect for my everyday essentials.

I love this bag! It's the perfect size for EVERYDAY essentials: lipstick, gloss, blush & brush, compact, small perfume, and contacts. It's much smaller than the Lay-N-Go Cosmo but that one is too big for the amount of makeup I carry.

I bought 10 of these as the bags for bachelorette party favors. I was able to fill it comfortably with a small airplane bottle of grey goose, a red solo cup shot glass, a mini sunscreen, lip gloss, hair ties, bobby pins, aka seltzer and emerge-c.

I had previously bought the larger version , and loved it except for the fact that the silver lining would get dirty all the time, now I don't have that problem with this one plus it is more compact to suit my needs and I don't have to pick up all my makeup just pull the cord and its all in the bag again, it does saves you time

I really like this thing - I use it every day to carry my "everyday" makeup back and forth from the bathroom to bedroom, etc. It is much faster as you can lay out all of your makeup and easily find and use your makeup without having to take anything out - no more powder on the bathroom sink! I also bought the larger one, but this mini one fit all of my makeup and takes up much less room (the other one is quite large), so I like the mini better (but I only keep my "everyday" essentials in it).

Cute mini version of the original Lay-N-Go Cosmetic Bag. It has all the features of its big sister: Zippered interior pocket, drawstring closure and open outside pocket (which I use to tuck away the drawstring when carrying it in my purse). The black Mini also features a black-on-black graphic design on the inside to spruce it up. It is definitely considerably smaller than the original version, meaning that it does not hold as many items. I would not use this for travel to hold all of my makeup items, it is much more suited for a purse and just those items one cannot live without during the day. Please see my uploaded picture for a size comparison between the Mini and the Original Cosmetic Bag.