Description
It's a two-in-one wonder
Get moisturizing support that fights against nicks and washes off grime with our Pink Cherry Whipped Bath Soap & Shave Cream. Smell great and experience smoother, fuzz-free skin today.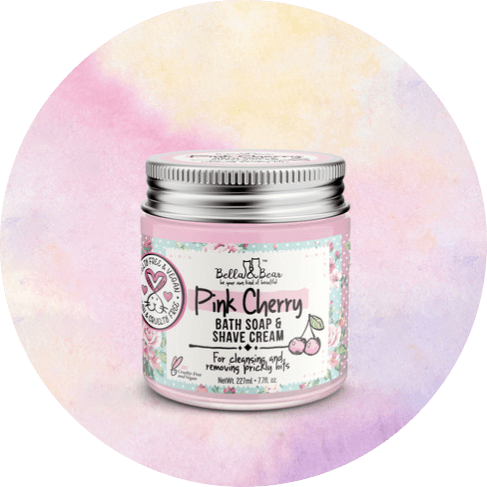 Smell great + feel great
Vegan & clean
That's right, our Pink Cherry Whipped Bath Soap & Shave Cream is 100% vegan and never animal-tested, for luxe self-care that's guilt-free.
Save money
You don't need both a shaving cream and body wash anymore -- this cream combines both in one.
Emerge blissful and renewed
Whether you're shaving your legs or washing up all over after a long day, our fresh cherry blossom scent will leave you invigorated.
Works for everyone
From dry to sensitive skin, Bella & Bear's items are formulated to be great for any skin type, so everyone can enjoy all-natural goodness.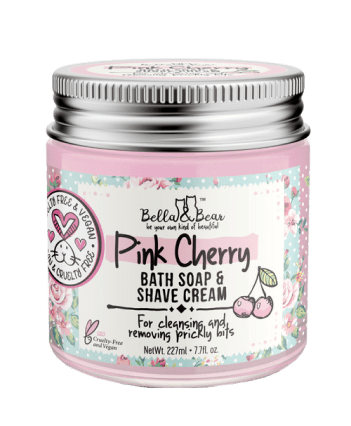 Warm + fuzzy love
Created in 2004, Bella & Bear creates lotions, scrubs, bath, and hair care products that are socially responsible for vegan- and cruelty-free beauty. All formulas feature natural ingredients and are packaged in 100% recycled plastic for a smaller eco footprint.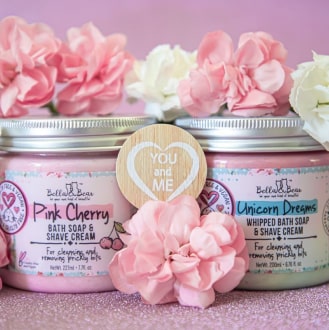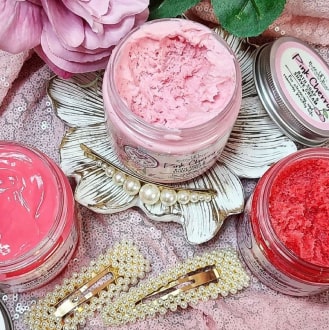 Great for shaving and the smell was just okay.

This is a really unique product! I've not used something like this before. As a soap it takes a bit of getting used to because it behaves so differently. It's not gel, but it's almost like a marshmallow frosting-like texture. For shaving, it "gums up the works" a bit (clogs up the razor), but I probably prefer it for this use to being used as a soap. It does work for either, though, and it's nice to have a product capable of two different uses.

I ordered this as a gift for a friend. She loved how it smelled. She was very happy with the product.

Yummy. Smells good. I can shave my legs with and wash my bod with it. Wish there was more for the money though.

I love this brand. It smells great and I love that I can wash with it and shave my legs and other parts of my body using it.

I use this to shave with and absolutely love it. My skin is so soft afterwards and I don't get the razor burn or bumps. Definitely going to order more the next time.

The scent smells great, kind of like a flowery scent but very pleasant. This is my favorite product to shave with, it leaves my skin feeling silky smooth with no irritation after shaving.

I like this product. Doesn't dry the skin and to me it is important that it is cruelty free and Vegan. A lot of people complain about the scent, but to me it was fine. Maybe not the best scent, but not disturbing either. Also, it is very convenient that it can serve 2 purposes, soap and shaving cream.