Description
Remarkable design
Drink water with no worries
Have you recently thought about getting yourself a water bottle? Well, maybe it's high time you got one. This is an incredibly practical outdoor water bottle. Because of its foldable design, you can fold it to a size that's convenient to take with you wherever you go.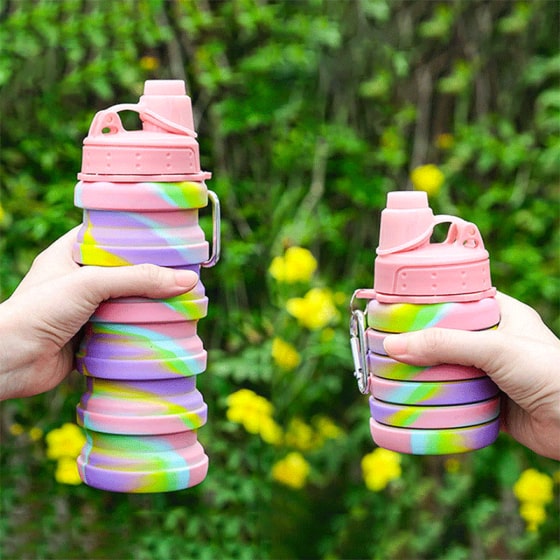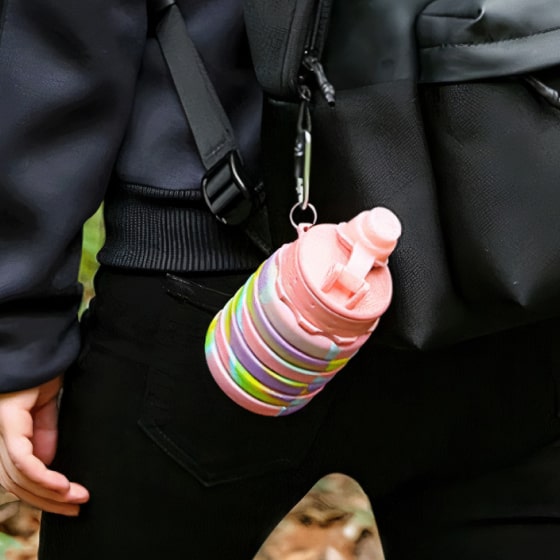 Water bottle specifications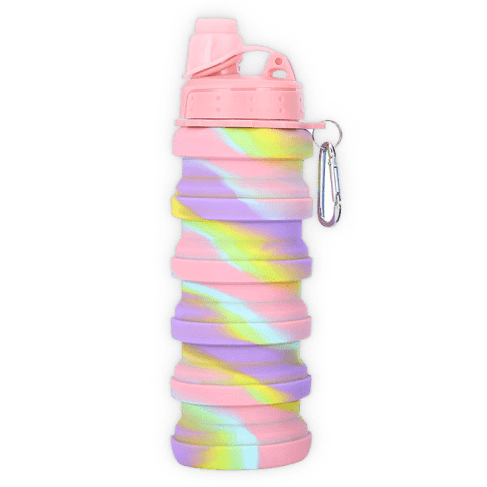 Product details
This foldable water bottle comes in a stylish camouflage pink color. Size when folded: 3.14" without lid, 5.5" with lid in height, with a 2.56" diameter. Full size: 6.9" in height without lid, 9.25" with lid. Weight: 5.6 ounces. Main materials: food-grade silicone, BPA free, food grade PP. Cold and heat resistant.
Incredibly convenient design
Safety buckle design allows easy attachment on a bag for trouble-free carriage, wherever you go. Also, the removable design allows seamless disassembly and cleaning. Capacity: 17 fluid ounces.
Incredibly convenient way to drink water
With this amazingly designed water bottle, no matter where your plans take you, you can easily hydrate yourself, whether you're doing outdoor activities, traveling, or participating in sports. This water bottle is the perfect solution to keep yourself hydrated.
Very nice product. It is easy to use, not cheap and flimsy, made from good sturdy material. Cute colors. Very glad I bought it!

A little flimsy but I like that has a wide opening so I can put ice in it.

Love the color and style,easy to clean and hold

This was my best friend while on vacation in New Orleans!!! Love this water bottle!😉

Perfect for what I needed. Taking it on our vacation to drink water in the theme parks. Very convenient. Quick shipment

This is the best water bottle. I get comments on this water bottle all the time. It's easy to use and the way it folds down makes it the best product ever! This is the second time I've ordered one and I love them especially for the kids! Great gift!!!!

Love this thing! I originally got it for walking my dog & wanted a small water bottle I could hook on my belt. This is better than a small water bottle & it's lightweight! Good quality, water doesn't taste plastic-y or rubbery. & I was worried about leaking but it does not at all! Even on its side, being jostled around under a bunch of stuff in a tote bag!! Actually, I bought two more for my sis & bro-in-law bc they loved mine so much when they were visiting me. They take theirs hiking in New Mexico & find this bottle is perfect for that! Honestly, I get compliments on this water bottle from people all the time. This was a smart purchase!