Description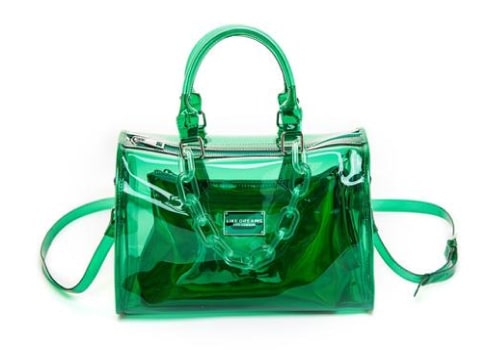 Sub-Zero Clear Chain Barrel Bag
The icy-cool iridescence for you only
Are you looking for a stylish bag, but you want something special? If so, look at this Sub-Zero Clear Chain Barrel Bag. Designed to attract other people's attention, this transparent trendy satchel with top handles and adjustable shoulder strap features a matching large pouch and chain detail!
Stylish accessories for stylish people
Sub-Zero Clear Chain Barrel Bag
Eye-catching design
If you love to shine bright, the Sub-Zero Clear Chain Barrel Bag is a 100% must-have for you! Due to its incredible and one-of-a-kind design, with this bag, you will always be in the spotlight!
Compact & capacious
Each accessory should be convenient to use. This is exactly what this bag is able to boast: due to its well-thought-out size and two handles, you will not have any challenges with always keeping this bag with you! Dimensions: 12 1/2"W x 8"H x 6 1/2"D.
Top-handle & adjustable strap
It's essential for a bag to be convenient to use. This is why this bag has both top handles and an adjustable strap for you to choose how to carry it.
Chain detail
Would you like to look stylish this year? This is a chain detail on this bag that will help you with this!
Perfect present
If you have that special somebody in your life that you would like to show your appreciation to with a special gift, get this Clear Chain Barrel Bag! Its brilliant design won't leave anyone indifferent!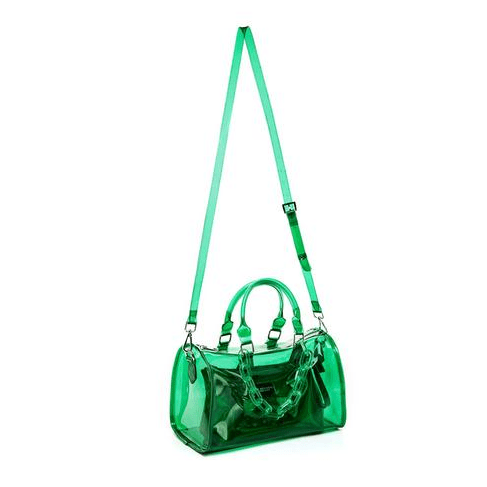 I bought this for our trip to Arizona and was so glad I did! It was so small and cute and seemed to go with all my outfits and all of the scenery lol. It is easy to carry around, the strap doesn't bite into my shoulder and is nice to the touch. After two weeks it didn't lose shape or fade, even though I had it in the sun all day long. Overall, I'm super happy with my purchase, I would get it again in a heartbeat! I might buy a different color too!

Ok I absolutely love this acrylic clutch /handbag. Before purchase I read the reviews. Obviously, don't overstuff it and be careful with the chain handles (but there are acrylic handles too, I use them). I'm very pleased with it, and it's very stylish!

This is such a cute purse for summer! I've used it most of the summer and it has held up very well. I'm not sure how long the chain handle will last, but for now the quality hasn't diminished at all. I carry it when all I need is my phone, a lip balm, ID, credit card, and face mask. It's been perfect for that. I've used it a lot already, get compliments on it all the time, and am very happy with the purchase!

This purse was the perfect addition to this outfit! This purse was prefect, very sturdy, flirty and versatile. You can hold it as a clutch or side purse… Definitely worth the investment can go with any party outfit! Overall I'm really happy for finally getting something unique and one-of-a-kind!

Great little bag for the summer! Very cute and trendy without the high price tag. Brought this with me on a trip to Europe and wore it everywhere. It closes with a zipper and has a detachable strap that can be adjusted for the length that you need. Just an overall good bag made with quality materials, ideal for spring/summer season!

This is basically a two in one bag, it has the outer transparent part and the inner pouch thing, that you can actually take out and use on its own. Great bag for girls who like to feel super fancy and get all eyes on them. Thank you!

I LOVE this bag, it has this smart design, that even though it's see-through the inside part is actually not see-through and you can put anything in there without worrying about what people should and shouldn't see. The material is solid acrylic, it doesn't get any scratches, doesn't get wet or dirty. Gonna get one more for sure just to have all the colors!

Got this as a present for my little sis. She's really in this stage when she likes bright and colorful screaming things. This bag is just for that, but personally I wouldn't buy something like that for myself.