Description
Make your regular outfit look fancier
The right piece of jewelry can add zest to any outfit. This Sun Pendant Necklace is an elegant accessory that will perfectly highlight your features.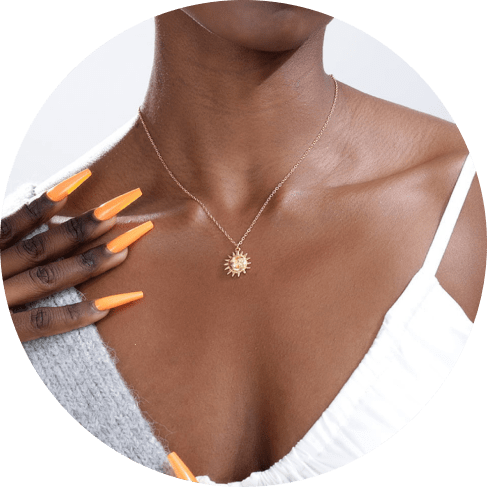 Looking for an elegant accessory?
This necklace is one of a kind
General characteristics
The necklace is made of stainless steel, a durable and strong material. It has a lovely golden tone which creates a beautiful gleam as the necklace catches the light.
Fashion tips
This lovely Sun Pendant Necklace will add elegance to a classy look. It can enliven a casual look as well. Doesn't matter if you go to the office, on a date, or for dinner, wearing this necklace is always a good idea.
Care tips
You'll be glad to know that stainless steel jewelry doesn't get corroded or rusted. So, feel free to wear this necklace every day. Keep it in a cool, dry place. If stained, wash in a soapy water.
Meaning
A sun pendant holds a special meaning. It represents light and warmth, truth and knowledge, strength and abundance. Gold color, for its part, is a marker of style, elegance, and sophistication.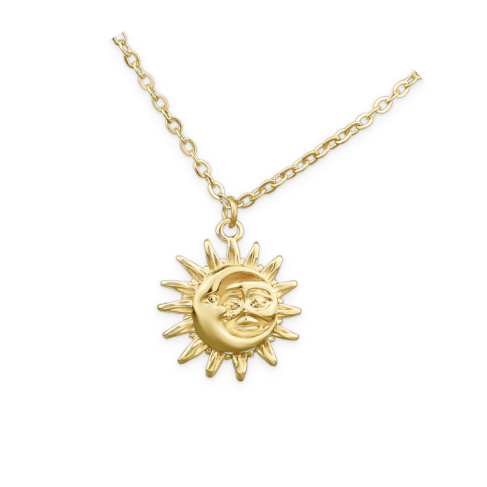 It makes a perfect gift
An exquisite design of the Sun Pendant Necklace won't leave a woman indifferent! This gorgeous accessory will perfectly highlight a lady's collarbone and skin tone. It'll become a stunning addition for both casual and classic outfits. Besides, the sun pendant symbolizes life and peace. Make your significant other feel loved and cherished!
So beautiful! I absolutely love it. The necklace was just the right size and the charm itself was not too big. The quality of the necklace is great; it is very sturdy. You can tell that this store really cares about their customers and has a great eye for small details.

At 1st I was expecting a big charm, but when I saw it small in size, I instantly fell in love with it. I switched the chain to my Pandora one since I wanted a shorter in length fit and it fit perfectly. Its to beautiful

Loved it. I've been wearing this necklace for a couple months now and it is great. Doesn't get your skin colored and overall is keeping up really well. It's additionally so cute. Don't hesitate, buy it!!

I bought this as a prize for a contest to promote a new book. The necklace is gorgeous. The detail is perfect. I love it so much, I decided to buy one for myself as well.

Gave this to my daughter as a gift and she loves it. Wears it daily and never has had an issue with it. It's very beautiful on her and I'd recommend it as a gift any time.

This necklace was bought as a small gift for my 20 yo daughter. She loves it, wears it all the time. Tender and cute necklace

I LOVE this necklace!!! It is the perfect size (I like tiny, feminine jewelry), and very beautifully made and presented!! I highly recommend this product!

I love this necklace. It is super cute & can be worn with tons of outfits. It is dainty but sturdy.

This was exactly what I hoped it would be.. She loved it.. You won't regret it.. 😊

Good quality and price . My 18 year old granddaughter loves it.

The quality for the price is good. I would not have minded having a nicer rendition for a higher price. Still, it was an excellent and appreciated gift.

Pretty little delicate necklace, I love it! Wear it almost everyday l. I would prefer it was a little longer!

It was smaller than I expected, but my wife likes it, and that's what's important.

This necklace is tiny, much smaller than I realized. Fortunately for me, my daughter likes smaller jewelry so appreciated this as a gift. For the price though...super small. If she didn't like it as much as she did, I would've sent it back.