Description
A clean taste starts with a clean slate
Ever feel your BBQs are great, but there's just this weird, lingering taste of charcoal or other food on your meats and veggies? It's not just you -- and chances are, others are tasting it as well (but just not saying anything). Go mean on clean by implementing high-power steam for your deepest grill clean ever: the magic starts with our Super Grill Steam Cleaner.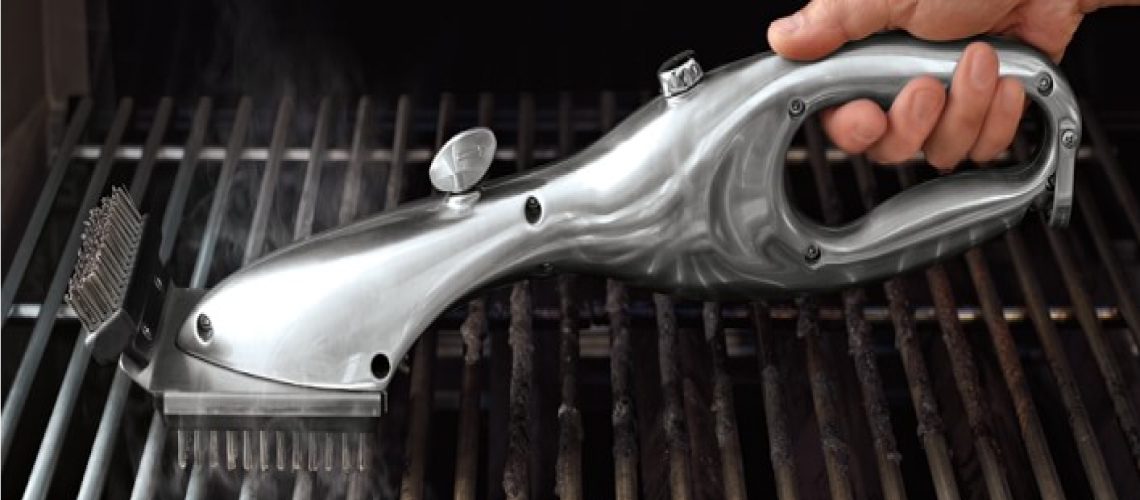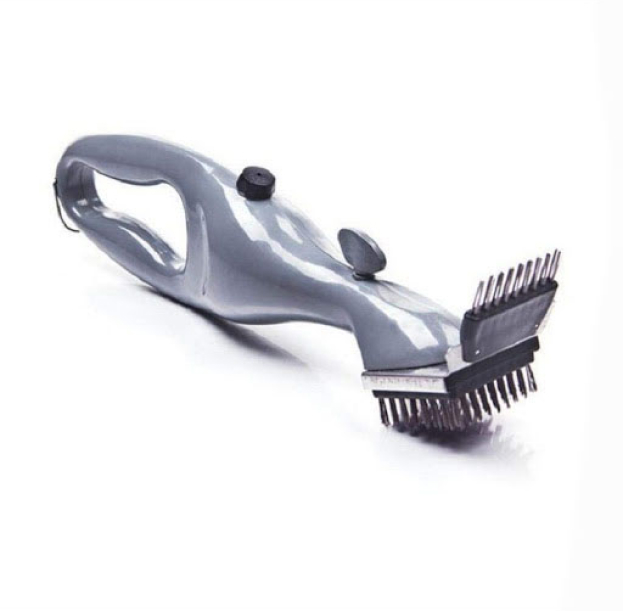 Just add H2O. No chemicals required
Heavy-duty dish soap? Pass. Our steam cleaner utilizes only water to help deep clean built-up sauce, seasoning, char, and food bits from your BBQ grill. Simply preheat your grill, fill the built-in water on the steamer with water, and dial the steamer button to "on" to start brushing away. To increase steam, loosen the fill cap. For hard-to-get stains, use the included scraper attachment. When done cleaning, empty out any remaining water by dialing the steamer to the "on" position before closing to the "off" position.
Made tough to work tough
Our brush is made from NSF-approved plastic for peace of mind in the presence of heat while stainless steel bristles tackle any kind of grill, from cast iron to steel. A steel-wire scraper head is detachable and machine washer-safe for ease of cleaning. Each brush measures 4.1 x 3.5 x 14.3 in / 10.5 x 9 x 36.5 cm for a maximum reach to clean while ensuring the handle (and your hand) are far away from the actual grill.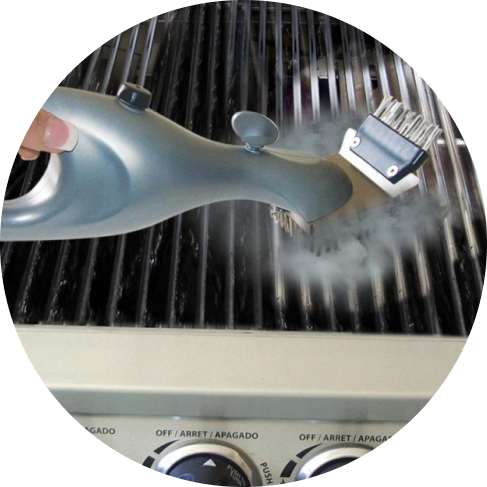 Perfect quality for reasonable price! Good deal! Thank you store!

Does an amazing job of cleaning my grill!!

More solid than the plastic ones. It certainly feels like it will last longer.

It really does work well. It does get my grill grates clean. To bad it leaks a little. That is why I gave it only 3 stars.

This is the grill brush to end all grill brushes! I have used this several times now, and it really impresses. So much nicer than the typical trash bristle brush that I have used, worn-out way too quickly, and discarded. A funny thing happened this past week. My step-son came over to the house and was admiring our new built-in grill on the back patio. He opened it up and saw this grill brush. He picked it up, and although I can't type his exact words in this review, let's just say they were actually complimentary! He looked at me and then said "Hey, my birthday is next month, hint, hint!"

Gave this to our son as a birthday gift. We have one and are amazed at what a great job it does. He feels the same way about his and uses it all the time. Great product!

I've done a whole lot of grilling over the years and have worn out many grill brushes (and melted a few :( I bought a couple of these brushes for different grills. I waited a bit to write a review because I wanted to use them for a while. They have not disappointed! They clean the ceramic grate in my portable Weber grill perfectly, as well as both grates I have for my Big Green Egg.

This is by far the BEST grill cleaner we have ever used! 1. The quality is better than could imagine. 2. The weight of this in itself – the craftmanship…the BEST I've ever seen. 3. The most efficient grill brush for cleaning.

nothing is missing. quality optimal. arrived within terms.

This works pretty well - I wouldn't say I was blown away, but it is better than other brushes I have used. The water helps to steam off remaining food, but the grates won't look completely like new. The first time we used it, the hook on the handle came off, leading me to think that the brush may not be that well constructed. In addition, it is difficult to get the water into the small opening. It would be better if the opening were larger or if there were some kind of a funnel. Overall, it is a good product.

Actually works very well and is much sturdier and classy looking than the plastic version. Honestly, we grill almost daily, year round, and keeping the grill grate clean was nearly impossible before this. The steam actually does work!

We had one of these grill cleaners before, not the same brand, and it pales in comparison to this big guy! Holy smokes, you could use this thing as a weapon! My husband was quite impressed with the heft and size. We haven't had an opportunity to use it yet as we just got our newest bbq and it's been raining. I'll edit the comments as soon as he has grilled up something delicious and we need to clean the grates.

I have a smoker and grill with porcelain covered grates and was using a brass bristle grill brush to clean it. The biggest problem with the brass brush is that it easily became caked in soot and burnt food remnants and there is the very small risk of bristles breaking off and somehow ending up in your food. This Steam Brush is very sturdy in design and appears to be well made. I like it so far, but time will tell as we head back into the glorious grilling season. As for the brass bristle brush, it's already in the refuse bin.

It leaks and doesn't allow you to use it more than once or twice. But when it works, boy does it do the job.

It's better quality than I expected. The simple mechanism will allow it to do the job and last a long time. So, I open my barbeque and see a disaster! My son didn't clean up from last season. I let the grill heat up for about 10 minutes or so. After filling the Grill Daddy, I turned the valve to on - loosened the cap as directed and let the steam flow. In literally 3 minutes - the grill was shiney clean. As I was cleaning the grill - I knew I was in for another job cleaning the brush. Nope! the brush was clean as well. This is really a great product and will allow my friends and family to enjoy the fresh taste from a sparkly clean grill. I think it's worth the $.

The Grill Cleaner works better than advertised and made my grill grates look like brand new the first time i used them.

Found this when I bought a new barbecue and have subsequently bought three to give away for Christmas. The men who have them and use them are really thrilled with the product. I don't know any ladies who barbecue, not even me, so I can only say this review is from the people I've given it to and who use it on mt bbq.

I bought this on a whim and actually forgot about it until it arrived. We had issues with bristles in our food in the past and so I thought I would buy this for my husband to try. I am glad I did. It has been 2 weeks - not a day gone by that he hasn't made a comment about it. He says his Traeger has never been so clean, it is super easy to scrub the grill, he loves this scrubber, etc., etc. I am happy he is happy with it.

This is one fabulous Grill Brush! My barbecue grill is looks great. I like this Grand Grill Brush so much that I bought two more for my sons.

My husband says this works just as it's suppose to work! Great product! Highly recommend!

I bought this brush for my husband who has enjoyed outdoor grilling for over 50 years. He watched the recommended video, used the brush, said it was the best he ever had, and liked it so much that I bought 2 more as gifts.

This brush cleaned better than any bristle I have ever owned. I highly recommend this product!

This is absolutely the best grill cleaner I have ever used. It cleaned everything from my grill in a matter of seconds. Completely dish washer safe and all stainless steel.

Easy to use! Love that is has a side to scrape the grill as well as scrub. It does get a little heavy with the water but the handle lets you grip it easily. And it cleans great!

Great Grill Brush. If you use the water, it steams off the gunk and works wonders.

The only reason that this did not get 5 stars is because it is a little too big for my purposes

Works great!! Gave it to my brother for Xmas and he uses it all the time.

The purchase arrived really fast! And it was accurate! Thank u friend

Great way to clean grill . I use one for each of my grills. Heat up grill for 5 min and clean no nasty chemicals

I want to love this product 100% but I struggle to at time. First of all, while the product does what was intended, the water supplysometimes doesn't work as one would expect. For example, there will be times where the water is coming out quickly, and times when it almost seems clogged. I do like the product and the water supply it can hold, just not the overall tool.