Description
A meaningful accessory
Looking to send subtle messages with your brooch? Many fashion experts agree that brooches often have hidden meaning. A brooch can set a tone to any affair or be a warning sign for the keen eye. This exquisite tree brooch will convey what you want to say without any words.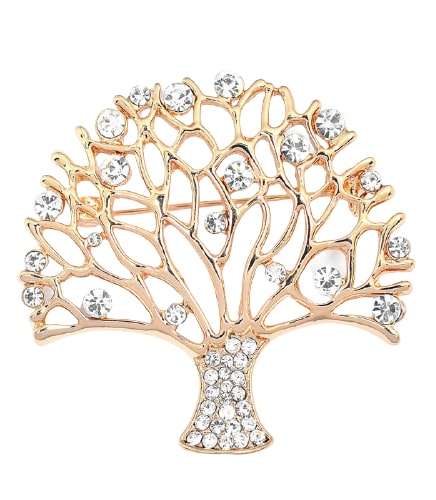 Tree Brooch Details
Great grip
Stays on all day long without the need to be readjusted.
100% safe
No lead, no nickel or other toxic metals.
Flawless design
Designed by professionals and crafted with love to ensure comfortable everyday use.
Construction
Main material: alloy, crystals. Color: gold. Shape: tree. Gender: unisex.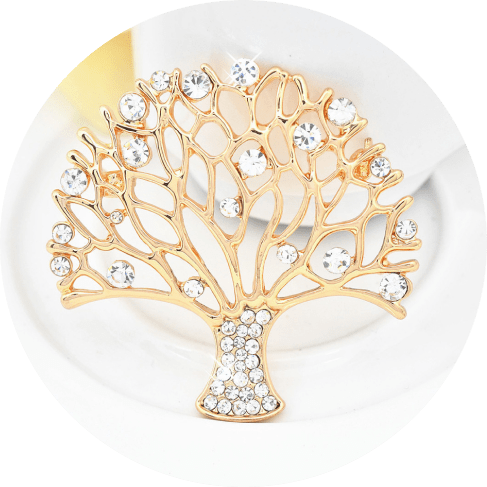 A mystery to be uncovered
Trees often represent life, growth, and rebirth, but what do you mean when you put on this brooch? It is a mark of your personal growth and how much progress you have made on being a better version of yourself? Or is it a sign of your lively, bubbling personality? Maybe it's just a pretty accessory with no meaning attached? You decide!
So many compliments I bought several as gifts!

This is beautiful and the crystals are perfectly placed.

This brooch is just beautiful. A great gift. Well made and affordable!

It's absolutely beautiful! I love it! It's a great addition to my collection!

Bought one for me and my mom. I got a lot of compliments. Beautiful!

Very pretty. Well worth the price. Elegant. Received lots of compliments.

Wow!!! This is just beautiful! Much larger than I thought that it would be. It's positively gorgeous!

The color of the stones were very vibrant. It can be worn with so many things and can tie in clothes colors.

This is very sparkly and beautiful. People who know me know I love pins and jewelry, I have gotten so many compliments on this one that I have added to my collection. This would make a great gift for someone too.