Description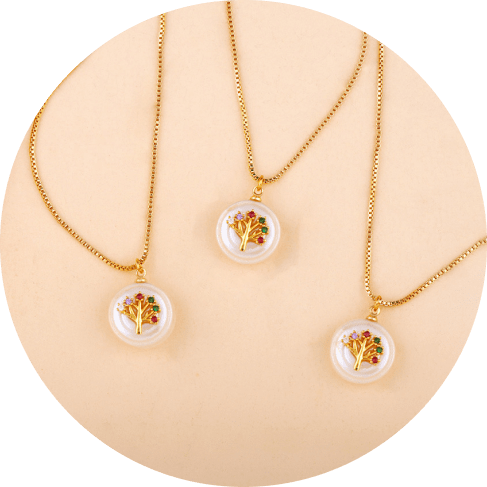 Magnificent elegance
This charming Tree Pendant Necklace will wonderfully complement your daily outfits and become a fantastic addition to your jewelry collection.
The accessory made to turn heads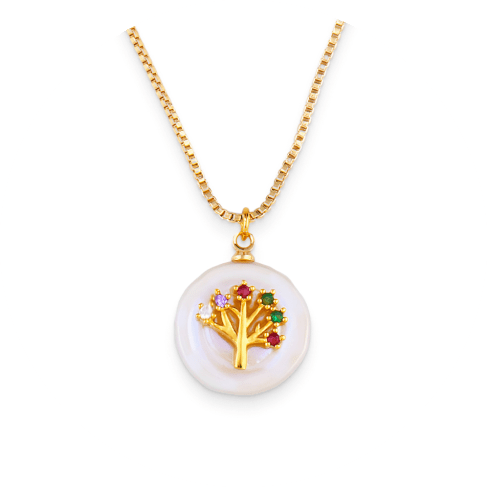 Necklace details
This necklace has a lovely gold tone and a pendant enchased with colorful rhinestones, creating a beautiful gleam as the necklace catches the light.
Care tips
Store the necklace in a flat box to avoid accidental scratches. If stained, wash in soapy water. Wipe with a soft cloth after every use.
Perfect for any occasion
Designed to follow the natural curves of a lady's neck and collarbone, the Tree Pendant Necklace will look pretty with any outfit, casual or classic. It will add some charm to your natural beauty and make you look fancy.
This is a very pretty necklace. I like how it is simple with the perfect amount of color and not too large, which makes it very elegant. I can wear it with just about anything in my closet. I would suggest that if you do want to wear it every day rather than on occasion that you swap out the chain as it seems very delicate.

This tree necklace is so beautiful! It actually exceeded my expectations! The gemstones look very nice on it and add details. I got it for myself, but would make a perfect gift for someone special.

I really liked the size and artistic beauty of this piece! I wear it all the time, even in the shower and I sleep with it on and it has held up great!

This was a gift and my friend was very happy with it. Nice necklace; the stones were pretty, and the chain was a little on the delicate side. Overall, I was very satisfied.

I received this as a gift. It is delicate and well made. It is far prettier in person than in the photo.

Very pretty. Not too big, not too small, just the right size. The stones are very nice. Very satisfied.

This will be a gift for my daughter for Christmas. I'm sure she is going to love it. The quality is great and it's a beautiful piece!

I bought this item as a gift and the person that it was gifted to absolutely loved it. It looks exactly as pictured.

Was exactly as pictured. Packaged very carefully to prevent damage during shipping.

I LOVE this necklace! It's beautiful. It is a perfect necklace for several of my outfits.

I bought this as a mother's day gift. She loves the necklace, and fits great

Looks just like pictured. The necklace isn't too small, so it's not like a choker necklace

I purchased this necklace as a gift for my mom and she loved it!

I bought this as a gift, and although the chain and charm were smaller than I anticipated, it's very lovely and of fine quality. I was proud to give it and it was well-received. I am considering buying another for myself.

Beautiful. A bit smaller than expected, just under the size of a quarter. Great quality for the cost.