Description
Stylish and elegant women's watch
The elegant diamond dial is made from a highly clear and transparent resin mirror, the glass is extremely hard and pressure-tolerant. Simple and elegant, this women's wrist watch is suitable for any occasion.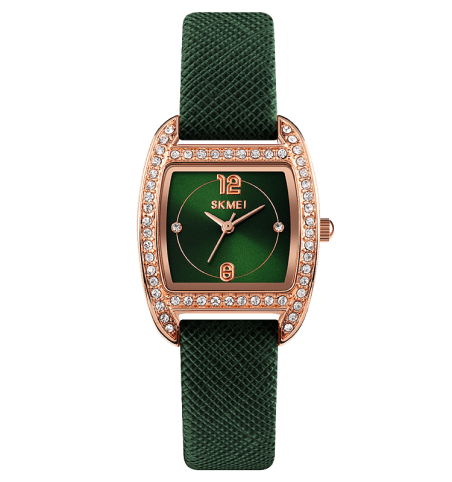 Watch specifications
Exquisite and beautiful women's watch
Watch movement
The watch is powered by an analog quartz movement. It can be used for more than 2 years without changing the battery.
Water resistant
This watch is 3ATM waterproof and withstands daily use or short immersion in water. But it is not recommended to soak in water for a long time.
Watch details
Case: zinc alloy. Band: leather. Buckle: stainless steel. Case width: 1.2". Case thickness: 0.4". Band width: 0.5". Band length: 0.8"- 1.2". Watch length: 8.7". Dial diameter: 1"-1.8". Weight: 0.9 ounces.
High-quality design
The rectangular rhinestone mosaic face of the watch is made of strong mineral glass. The case is made of zinc alloy, and the buckles are made of stainless steel which is skin-friendly and suitable for all people.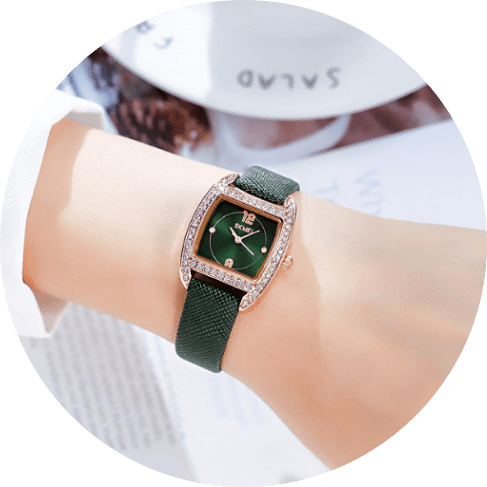 Treasure every moment
The minimalist design watch reflects the elegance of the lady, simple but very stylish, stable and comfortable to wear. It is suitable for any occasion: business, daily wear, weddings, parties and other events. Excellent gift idea!
This is great to wear on an evening out. It is not a watch I would wear day in and day out as I wouldn't want to mess it up, but for a special occasion it is great to have. I have to know what time it is so having a watch makes it possible. I love it as an old fashion clock and not a digital one as it makes it more realistic to a clock.

Bought this for my girlfriend. She loves it! It looks premium, like an expensive watch. I'm surprised with the build quality. Considering its weight, it doesn't feel cheap at all. Overall, I'd definitely recommend it.

I absolutely love the design!!! It looks expensive even though I didn't pay much. The only concern is the lack of numbers or dots on the face… Really difficult to tell time, but as an accessory it's perfect!!

I love this watch!!! It is comfortable and lightweight and very stylish. I love the deep green color and how it fits perfectly. I have had a lot of lovely compliments about the style and colour.

An attractive and stylish watch at a very reasonable price. Looks good, and is an excellent timekeeper. The colour and the design made it quite different to other watches.

Very nice looking watch and a bit unusually shaped. I really like it a lot. Would highly recommend it for yourself or as a gift.

The strap feels comfortable but still too big for my tiny wrist. Had to go to a repair person to adjust it. Otherwise, a great choice for money

The design of the watch is really unique, which my wife liked a lot. The belt is comfortable to wear, and the watch is lightweight.

I love this type of watch. It's a perfect match of green and gold. It really shines. Although it's so inexpensive, it's still very noble on the hand

I am very pleased with this watch. It is very pretty and I love the color. I would recommend it if you are looking for a classy watch.

Excellent product! Very fashionable, trendy color with crystals. Excellent choice for any age group! And at a very decent price!

It is a great size watch and the most beautiful colour. It is definitely a watch for evening or day

Very pretty! Lightweight and not too big. Fits my tiny wrists. Easy to adjust the strap

I love this watch, because it's not too big. It is a great watch for the price.