Description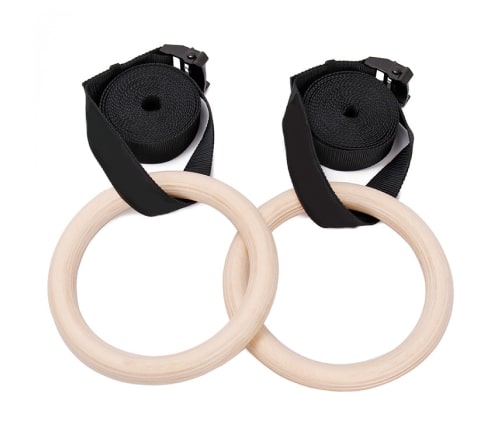 Step up your gym game with these rings
No matter if you're a gymnast or not, these rings can help you elevate your gym routine with the comfort and the challenge you need. Drastically improve your upper body strength and core, balance, and joint alignment. Pull-ups, ring push-ups, dips, levers, ring rows, etc. Wide capabilities give you a wide range of possibilities.
There's nothing impossible
Really. See it for yourself while these rings help you out.
Enjoy the superior grip no matter if your hands are sweaty (it actually makes them stick even better). Natural wood feels familiar and very cozy in general, unlike plastic or steel.
Straps are made of nylon, which makes them incredibly strong and resistant to any damage (e.g: chemicals or water). Lightweight, easy to wash, and it dries fast – what else is needed?
The part of the buckle that contacts the strap surface is textured. That way the buckle, quite literally, bites into the strap and gives you the extra safety and stability.
Ring diameter: 9.05'' Strap length:13.12 ft Strap width: 0.98'' Strap thickness: 0.078'' Maximum weight impact: up to 881 lbs
Athletic excellence
Is what these rings are. And you can become one, too. Or keep being one! Level up your working out routine, push yourself, conquer new heights, achieve new goals and enjoy your fitness journey.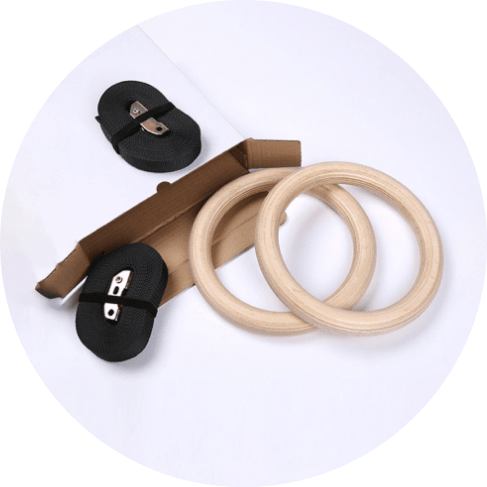 Overall a great product considering the price.

I have used these a few times now and I absolutely love them. These are made of all high quality materials at a fraction of the price as some other brands.

I love these rings. Setting them up is easy and they are super sturdy.

I am not a gymnast, just a guy who bought these and mounted them (easily) in the rafters of my basement. I love the tacticle feel of the wood and the workout that I get each morning. Would buy again, but I don't see these every going bad.

This is exactly what I was hoping it would be. Sturdy straps with plenty of length to customize for each workout. The wooden grips feel so smooth and sturdy in the hand. Already got my first workout with them in and man I feel sore, in a good way.

I have another older pair of more expensive plastic rings. I split time between two locales and tired of a hauling the plastic pair in checked baggage. What pleasant surprise to find that these are every bit as good and actually much better on my hands. The larger diameter probably helps. I did not care for the straps and cam but that is an easy and inexpensive replacement. For those having trouble with minor imperfections in the natural material called wood I suggest visiting a hardware store and having them show you a thing called sandpaper. Can't beat rings for a body weight workout.

I really enjoy these. I am not a gymnast or anything like that. I have only begun using these to help strengthen muscles for my aerial silks class. I'm glad I opted for wood, I just feel like they look nicer, though these are fairly thick. I wish I'd gotten slightly thinner ones, but they are not uncomfortable. The straps feels very sturdy, and even though I had no previous experience with this type of clasp, I had no problem securing them or taking them down. I don't mind that there aren't measured lines on them, because as another reviewer said, if you ever hang them from an uneven surface those won't be of much use anyway. It's not difficult to eyeball. I'm very excited to bring trying new exercises on these and have already been watching too many YouTube calisthenics tutorials.